Diane and Tom - What We Collect








Diane and Tom are avid collectors--real pack rats. We think a great vacation (except for camping) involves great food, great wine and lots of antique stores. We hunt down antique stores and malls where ever we go--even in the Adirondack Wilderness. We started out just collecting Victorian opalescent glass, but have since blossomed into many other areas. Our insurance company finally refused to believe that we could have everything we do in a 2 bedroom apartment and forced us to do an inventory. We will share our main ones with you. At this point, we have all our walls covered with curio cabinets, shelves, hand painted plates and kitchen antiques, and we are now just about at capacity. We laugh when friends suggest that we provide museum-like commentary sheets in every room to describe what is on the walls. Diane collects Victorian colored glass, mainly opalescent and Victorian hand painted floral porcelain plates. Tom collects copper and kitchen antiques. We both collect antique Christmas ornaments and Santas.

---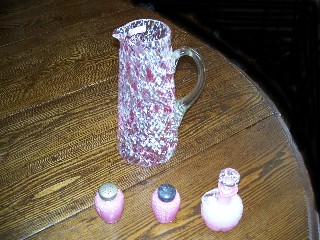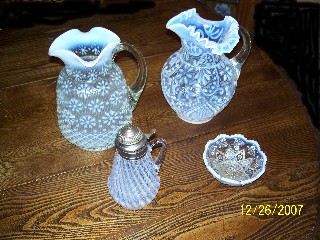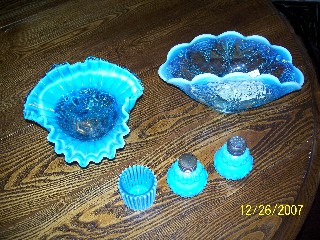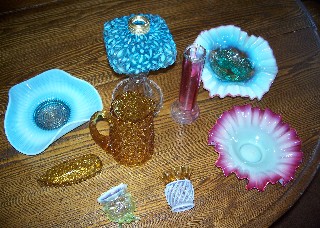 Victorian Colored Glass
I have over 900 pieces in my Victorian glass collection. It spans the years 1860 to 1911, with over 100% being over 100 years old. The glass is mostly American. However, my collection of English and German pieces is growing rapidly. I first got interested in this glass when my ex-mother-in-law gave me a few pieces from her mother. Well, you can imagine I don't have those anymore--but I replaced them with a lot of others. The only drawback to being an avid glass collector is that it takes five full weekends to wash everything. Would you like to take a peek at my collection? Take a look at the new pieces we added in 2017, including the addition of a very rare Snowflake oil lamp.

Visit Victorian Glass and Victorian Glass Page 2 .

---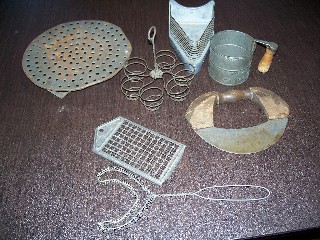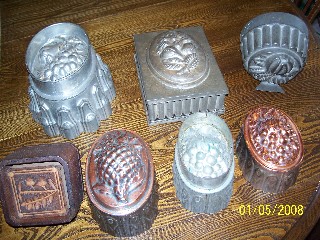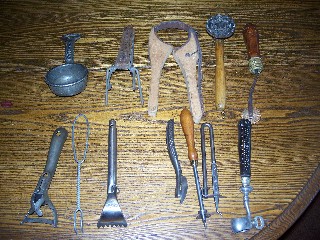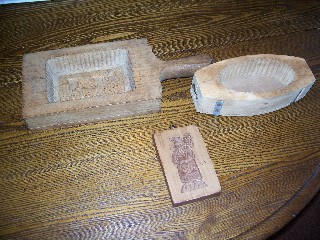 Kitchen Antiques
What would you think "foodies" would collect? What else but kitchen and cooking antiques. In the last couple of years, we have made substantial additions to this collection, which now numbers nearly 600 pieces. Our den is the kitchen antiques museum, with many things nailed all over the walls. Tom's collection includes things like cake and jelly molds, grinders, cherry and raisin pitters, butter churns, sausage stuffers, egg poachers, mayonnaise mixers, egg beaters, sugar cutters, marmalade cutters, asparagus buncher, butter molds, cork screws, hand-cranked cake and bread mixers, nutcrackers, antique hand carved Chinese rice molds, carved bone animal skin scraper, and other utensils of all kinds. The collection is mainly Victorian and involves items made out of tin, wood, various other metals (e.g., brass, steel, etc.), cast iron and glass. The fun thing about collecting these types of antiques is that we frequently have no idea how a particular item was used and have to research it for the answer, e.g., a very rare tin Victorian egg whipper, one or our latest finds--an antique cast iron bread crumber!. Our best piece so far is a hand forged cast iron baker's paddle from the mid-1700s. Why not take a look at Kitchen Antiques. We've added over a number of new items in 2017

.

---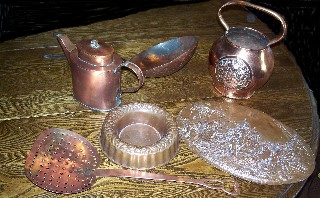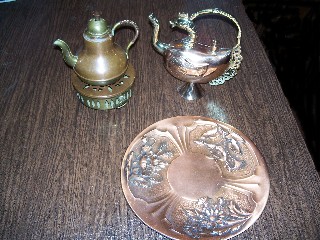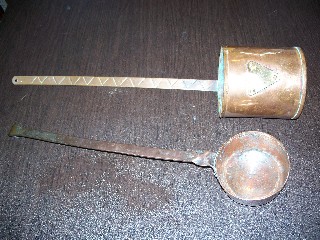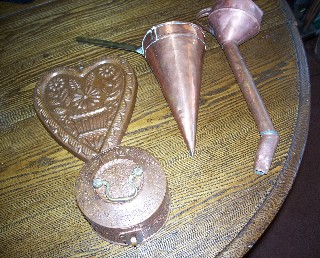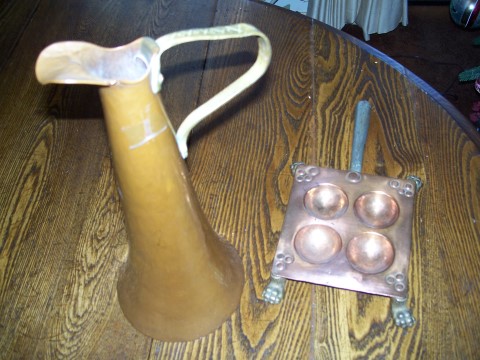 Copper
Tom's copper collection has over 300 pieces, and spans Victorian and early art deco periods. It includes cooking items (of course), as well as other decorative items. Copper is another maintenance-intensive collection, because copper tarnishes. It takes about 14 full days to polish everything (if you also include our copper pots and pans). But, unlike glass, this is a task delegated to our cleaning lady, Michelle. Every time Tom gets a new piece of copper, Michelle groans. Why not check out the full collection and all our new 2017 additions in Copper

---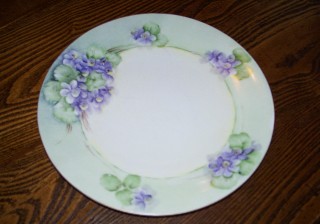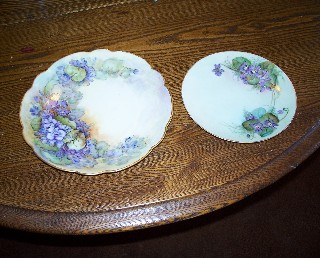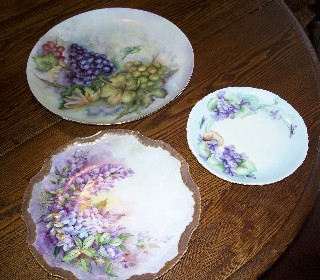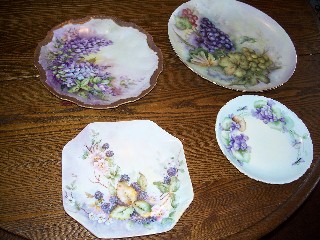 Hand Painted Porcelain Plates
Diane started to collect hand painted plates during 1998. More things to nail to the walls! During the Victorian period, painting porcelain plates was a highly desirable hobby for well bred ladies. Our plates are mainly Bavarian, with a few Limoges, Royal Doulton and Nippon (turn of the century Japanese). We use them as dessert plates for our dinner parties and ladies tea parties. Here we go again, a labor intensive collection. When I use these they have to be hand-washed! In 15 years, Diane has more than doubled her collection . Please take a peek at the new plates we've added in 2017 at Hand Painted Porcelain Plates

---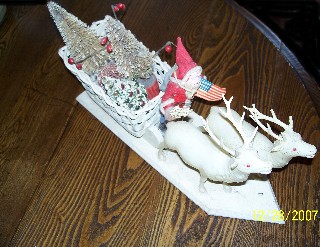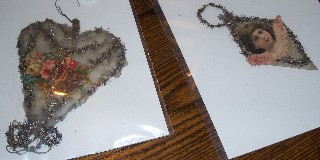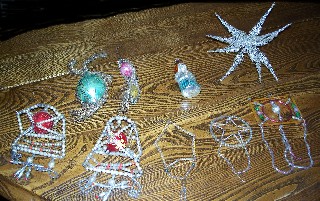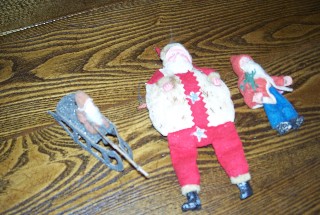 Christmas Antiques
We have been collecting old Christmas ornaments , Santa figures and other antiques Christmas items for the last 25 years. The ornaments are mainly European blown glass and spun cotton of all different shapes and cover Victorian to pre-World War II periods. As with all our other collections we started buying things that were reasonably priced, but are now into ornaments and Santas that are harder to find and, of course, much more expensive--for example , Victorian scrap (paper that is over 100 years old) and tinsel ornaments, German Santas, cotton-batting ornaments, etc.. During the last couple of years, we concentrated on adding a number of cotton batting and fabric Santas and Russian ornaments. Since the fall of the Soviet Union,. Russian ornaments from the 1920s and 30s are starting to be available. If you are interested--take a look on Ebay. We also started a collection of "chef " and wine maker Santas, nutcrackers and "smokers " (German wooden folk figurines), and snowmen--many purchased from the Christmas Market on Diane's trips to Nuremberg. We have over 300 of these now. We also have pre-electric lighting items, e.g., Victorian metal and glass candle holders. We have accumulated so many ornaments, and lights, and glass beaded garlands that we now put up multiple Christmas trees. We have 12 in all, (4 for our antique ornaments; 1 for antique Kugel ornaments; "feather" trees for our Belleek porcelain and miniature British house ornament collections, trees with cat and cooking themes, a big folk art tree, a Pakistani-themed three with all the little handicraft dolls and animals Diane collected when she was working with a client in Islamabad, and in 2010, a Bangladeshi themed tree and manager scene with handicrafts collected during Diane's business trip to Bangladesh). In 2011 and 2012, we added a grouping of Christmas cat sculptures to our cat tree display, including Santas with cats, angels with cats, cat snowmen, cat carolers, cat Christmas orchestra, etc.) We also replaced our 5 foot folk art tree with a 7 1/2 foot tree to accommodate our full collection of folk handicraft ornaments. We have accumulated enough of those post-WWII Japanese and European felt and cotton Santas (remember the kind you got for 10 cents in the dime store that now cost a fortune) that we had to make use of the tops of 5 large china cabinets and two full bookshelves to make special "Winter Santa village" displays. We used the tops of cabinets for these displays because we now have 8 cats (ranging in age from 8 years to 11 years). I must admit, over the years, we have found a couple of dismembered Santas in the mornings, and did have a number of experiences with cats climbing a large tree covered with antique ornaments. Can you imagine 12 Christmas trees, 11 Chef/Wine maker Santa/Nutcracker displays and 7 antique Santa displays in a 2 bedroom apartment--with 6 kitties!!! Neither could Tom. The whole collection includes over 1700 glass, paper and fabric ornaments and Santas, and over 100 candle holders and glass fairy lights. Why not peruse our updated inventory in Christmas Ornaments and Christmas Ornaments Page 2 . Take a look at our new items we added in 2017.

Since everything is individually wrapped, it takes us 5 days to decorate and 5 days to dismantle. If you would like to take a look at the our Christmas decorations when they are all finished, we have added two new photo albums, Christmas Photos - Living Room and Christmas Photos - Office and Bedroom.

---
Antique and Collecting Hot Links
Auctions and Antiques Sources
Replacement Services, Collector Forums and Reference
These collections are under continuous update. Please check often.
Updated March 24, 2018