The Queen Victoria is comprised of two beautifully restored large Victorian houses about a block from the ocean. It is a wonderful bed and breakfast in the true Victorian style. There are all types of rooms, including a suite, decorated with antiques. We had a large sunny room with a queen size bed and Jacuzzi tub. Once you are in Cape May, everything is within walking distance. This includes wonderful restaurants, historic homes, shopping, the beach, fishing, etc. In the summer, the rate includes beach passes and towels. Bicycles are also available. Cape May is a lovely Victorian town on the tip of New Jersey with events happening throughout the year. It is very busy in the summer--so book early. The inn includes a huge breakfast consisting of fresh fruit, cereal, fresh squeezed juices, home baked rolls and muffins and a hot entree, e.g., stuffed French toast. A recipe collection is for sale. Full afternoon tea is also included, and coffee, soda snacks and sherry are always available for guests. There are menus from all the restaurants and help with making reservations. We especially liked Alexanders. Innkeepers Dane and Joan Wells were most hospitable and helpful in offering suggestions for excursions and restaurants. A lovely getaway for a long weekend.
Back To The Index

The Whistling Swan Inn
110 Main St
Stanhope NJ
973-347-6369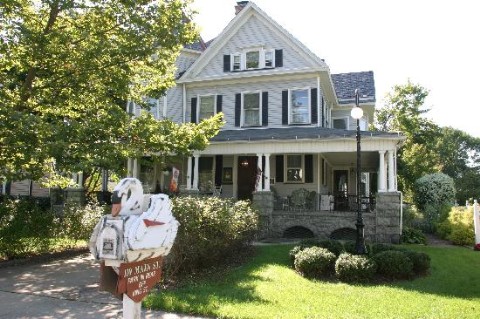 The Whistling Swan Inn was built in 1905 by the Justice of Peace, Daniel Best, for his wife, Sarah. After passing through six families, this wonderful old house was restored to its turn-of-the century Victorian splendor and converted to a Bed and Breakfast in 1985. The inn was voted among the "Top Ten Best Inns in the US" by Inn Traveler Magazine. It is nestled in the the small mountain village of Stanhope, in the Skylands region of northern New Jersey, within walking distance of New Jersey's largest lake, Lake Hopatcong. Walking into the inn is like taking a step back in time. There is true Victorian ambiance, while still being extremely comfortable and relaxing. There are rooms of various sizes on three floors, all decorated with beautiful period antiques. There are also have modern touches, like in-room telephones, TVs, VCRs, and wireless internet connection. Some rooms have jacuzzis and fireplaces. The inn is also centrally air conditioned. There is a rather large veranda where you can have your breakfast, read the paper or sip a brandy after dinner. We brought some wine and Armagnac with us for just that purpose. In addition, there is a beautiful Victorian garden for reading, strolling or just relaxing. You start your day with a sumptuous breakfast in the dining room or on the porch. This includes both hot and cold items, juice, coffee and tea. Some favorite breakfast items include: spinach cheddar quiche, orange marmalade French toast, and cranberry cheese coffee cake. There is also complementary sherry, soda, juice and teas available 24 hours. The inn does not serve dinner, but there are a number of excellent restaurants within walking distance or a short drive. There is much to do in all seasons ranging from boating, swimming, hiking, skiing to antique and outlet shopping, to farms and wineries, etc. They also have special events, like culinary weekends and dinner and dancing on the Veranda. these events are described on their website. The inn changed hands in 2011. the new keepers, Ros and Tom Bruno, are extremely hospitable and available to tend to your every need. We have stayed there 8 times and still, this is a real value--lovely room, great breakfast, very hospitable innkeepers, and a great place to relax.

The Lillagaard Bed and Breakfast


5 Abbott Ave
Ocean Grove, NJ 07756
732-988-1216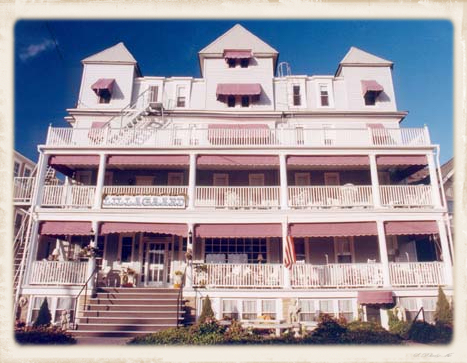 Imagine yourself surrounded by the tranquility of an earlier time, soothed by the soft murmur of the ocean.... The Lillagaard is an historic inn in the lovely Victorian beach town of Ocean Grove. It is a block from the ocean and offers lovely views and ocean breezes. It is owned by Dick & Jane Wehr and has been recognized by Arrington Publishing as one of the top 15 B&Bs in the US, and has been the recipient of van award for the best front porches It is also listed with Pamela Lanier' travel guides and Trips & Getaways Magazine. Lillagaard features 22 guest rooms , each named for its unique theme, with many having an ocean view. Hand-painted murals by local artist Barbara Climer add a finishing touch to each room, For your comfort, all rooms are air conditioned and have ceiling fans. The public rooms include the library, a TV/game room and 2 old-fashioned front porches where you can sip a glass of wine while catching a refreshing ocean breeze and enjoy the view. A very hearty and very delicious full buffet breakfast is served daily in the "English Kitchen" dining room. Breakfast consists of coffee, tea, orange juice, and a hot dish alternating with bacon & eggs or pancakes & sausage along with a corn bake or an egg casserole. Thee are also breads, bagels, flavored cream cheese, cottage cheese, yogurt , fresh fruit , and always something SWEET and some surprises. There is also a Victorian Tea room for afternoon tea--wonderful!! Entering the town of Ocean Grove is like stepping back into time. It is a beautifully and lovingly cared for Victorian town with many shops and restaurants in addition to the beach. There s also Asbury Park "across the footbridge" that has gone through quite a renaissance and has a wonderful boardwalk with absolutely fabulous restaurants. Two of our favorites are Porta and Pascal and Sabine. You can walk or take a cab for $8.00. This is the way to spend time on the Jersey Shore--in a small quiet town with some of the loveliest Victorian homes you have ever seen; relaxing in a very pretty B&B with a couple of porches to savor the view with a bit of the bubbly; a beautiful beach; shops and great food all within walking distance.

Back To The Index

The Lilly Inn


214 High Street, Burlington
New Jersey 08016
888-900-5459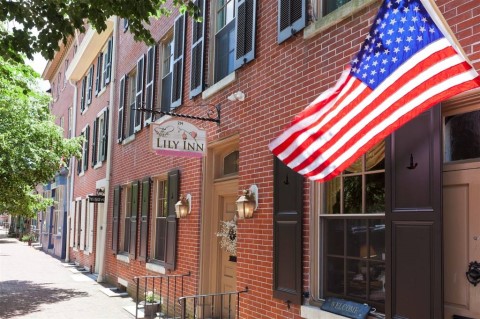 The Lily Inn, built in colonial times, is nestled in the Historic City of Burlington, New Jersey, along the banks of the Delaware River. The Inn is 300 years, and is an example of Georgian/Federal architecture. Two buildings were built on this property in 1709 by two brothers, Francis and Daniel Smith. At the time they probably shared a common wall. In 1767 Samuel Allinson, a prominent Quaker resident, purchased the properties and combined the two into one large residence. In 1857 the home was purchased by J. Howard Pugh, M.D., a prominent New Jersey physician who served during the Civil War, and became president of Mechanics National Bank of Burlington for 36 years. The décor is in keeping with the Georgian/Federal style of the building with its 10 foot high ceilings. We have kept the blue marble fireplaces, and original, white cedar floors exposed, using only area rugs. Beautiful antique furniture and very comfortable four poster beds complete the feel of a time gone by, when life was slower and comfort was appreciated. Only one block from the 'Promenade', guests can walk along the green banks of the Delaware. Located in the historic district of Burlington, shops and restaurants are just a short walk away. Thee is much to do. You can go antiquing at Historic Burlington Antiques and Art Emporium, spend a special day kayaking on the Delaware with PT Transformations, enjoy a guided tour of the extraordinary river Delaware River environment, or take in a show at the riverfront Bristol Riverside Theatre . The Bristol Riverside Theatre offers a main stage season of plays and musicals as well as classical music, rock concerts, stand up comedy and more. The Lily Inn is two blocks from the train station and NJ Transit River Line. The River Line train travels between Camden to Trenton, stopping at river towns along the way. You can also connect to New York or Philadelphia to spend a day for shows and shopping and relax in your comfortable bed by evening. There are five large guestrooms have hardwood floors, ceiling fans, private baths, Wireless Internet, hair dryer, iron and ironing boards, and clock radios. Three guestrooms have 10' ceilings and working gas fireplaces. Two guestrooms have cable TVs with DVD and individual climate control. All rooms have premium mattresses, 2 down filled pillows and 2 down substitute pillows. In the winter, each bed has a cozy down comforter. There is also a large TV room. Breakfast is an occasion with a number of choices, beautifully prepared and served. Complementary coffee, tea, sodas, water, ice, snacks, and fruit are available 24/7.

Back To The Index

VIRGINIA
Summerfield Inn
101 West Valley Street
Abingdon, Virginia 24210
800-668-5905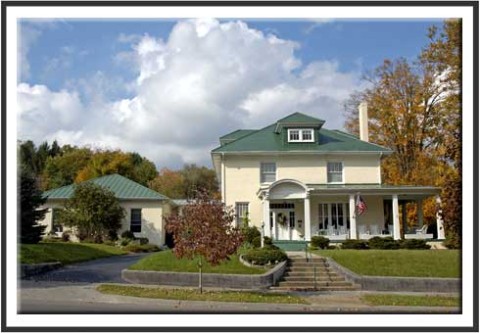 The Summerfield Inn was built in 1921 for a prominent lumber dealer in Abingdon. It was purchased by the Methodist Church in 1927 and used as a parsonage for traveling Methodist ministers. It is a beautiful inn decorated with beautiful antiques, four poster beds and Royal Doulton Toby Mugs. There are four bedrooms in the Parsonage (the main house) that have just been refurbished. There is also a Carriage House with three rooms, all with Jacuzzi tubs (one has a double Jacuzzi). The Parsonage has a dining room and sun room where breakfast is served. In addition, there is a guest's pantry with snacks in both portions of the inn. We stayed in the carriage house with the double Jacuzzi (what a delight!!!!). The room was very large, very comfortable and quite a value. The Summerfield Inn is a bed and breakfast, but is in the middle of a very lovely historic town with a renown theater and with several nice restaurants. There are also two antique malls in town. A rather large breakfast is served consisting of coffee or tea, fresh fruit, freshly squeezed juice, and a hot entree. Ours was a wonderful cheese and pepper omelet with ham. The inn keepers Janice and Jim Cowan are extremely hospitable and helpful. Upon our arrival, my husband locked the keys in our car. The innkeepers took care of everything, got the problem resolved quickly and inexpensively, and all while we were at dinner. This is a real gem--lovely room; great breakfast; wonderful, friendly innkeepers; and a real value.
Back To The Index

TENNESSEE
Buckhorn Inn
2140 Tudor Mountain Road
Gatlinburg Tennessee 37738
423-436-4668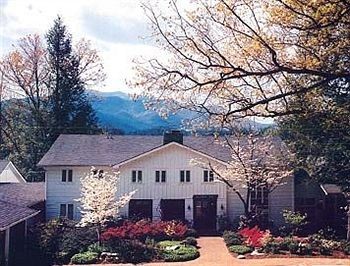 The Buckhorn Inn was built in 1938. It consists of a main inn with four bedrooms and a number of guest cottages. It is on a large portion of land facing the Great Smoky Mountains and enough away from the "touristy hubbub" of Gatlinburg to be extremely relaxing and quiet. It is also close enough to the national park to partake of all its activities. There is a nature trail and a fishing pond on the property. We stayed in the large corner room with a wonderful view of Mount Le Conte, the highest mountain on the east coast. The main building also houses the dining room and a verandah with rocking chairs with a breath taking view of the mountains. We have never been to a more comfortable or relaxing inn, where we felt absolutely pampered and even invited into the kitchen at any time to get sodas or coffee or trade culinary discussions with the chef. The room includes a large breakfast with fresh fruit, fresh juice, just-out-of-the-oven biscuits and cornbread and a selection of hot entrees. The inn serves very nice four-course dinners which are a real value at very nominal price per person. For example, one of our dinners was: cream of cauliflower soup, orange and onion salad with poppyseed dressing, loin pork chops stuffed with sausage, herbs and bread, scalloped potatoes and fresh vegetables, hot home-baked bread and banana and chocolate pie. The inn does not have a liquor license, but invites you to bring your own. This makes it an especially good value for us since we could bring wine, champagne and Armagnac from our cellar and avoid all liquor bills. The innkeepers, Lee and John Mellor, are role models for true southern hospitality. We felt like cherished guests in their home. We were always addressed by name, and they were very proactive in making our stay very memorable. The inn is also in the midst of an eight mile craft network, so there are shopping opportunities. We went the week before Memorial Day which is before the onslaught of hordes of tourists--great weather, but no crowds. If you are looking to combine the beauty of the Great Smoky Mountains with very good food and peace and relaxation, this is the place for you. We will continue to hold fond memories of sipping champagne or Armagnac while rocking on the verandah and taking in the beauty of the Smokies.
Back To The Index

NEW YORK
Beekman Arms
6387 Mill Street
Rhinebeck, NY 12572
(845) 876-7077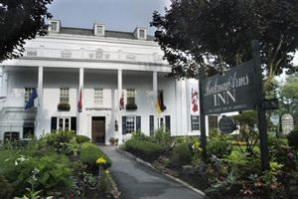 The Beekman Arms is the oldest country inn/hotel in the US. It has been continuously operated as an inn and tavern since it was built in 1766. It is located in the village of Rhinebeck in New York's Hudson Valley. It is close to many Hudson Valley attractions, e.g., the FDR House and Library, the Vanderbuilt summer mansion and the Culinary Institute of America. There are also many antique shops and centers close by. The inn has been featured in a number of magazines, including Gourmet, Bon Appetit, the New Yorker and the Discerning Traveler. The inn comprises a number of buildings: the original colonial tavern, a Victorian house (Delamater House) a block away (built in 1844) and a number of modern carriage houses. In all, the inn has 66 rooms, but still provides absolutely personalized service. The original building is wonderful with creaking plank floors, overhead beams and a stone hearth. The rooms are decorated to the period with colonial decor in the main building and Victorian summer home wicker and chintz in the Delamater House. There is a fabulous restaurant under the direction of chef R. Preston Faust who offers innovative American cuisine, including a new flavor of crème brulee every day!. We have stayed here several times. We usually spend a long weekend consuming the wonderful food at the Culinary Institute and the Beekman Arms restaurant and spend the rest of the time antiquing. We call it our "gorge and spend" weekends. We have always enjoyed our stays here. The rooms are very comfortable, the service excellent and the food superb. There is also a wonderful Sunday brunch available. Rhinebeck is about 2 1/2 hours north of New York--a lovely weekend, especially in the fall when color bursts forth in the Hudson Valley.

IDAHO
Greystone Manor
187 S. 2nd W.
Box 419
Lava Hot Springs, ID 83246
208-776-5959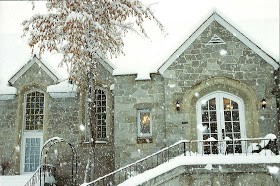 Greystone Manor is a lovely bed and breakfast in Lava Hot Springs, Idaho, which is the home of hot mineral pools. The Manor was originally built as a church in 1933, and has now been restored, and used as a bed and breakfast and for weddings and special occasions. The building is on the National Historical Register. The B & B is in the basement of the building and the ballroom on the first floor. There are three rooms all decorated with lovely antiques, and each includes a fireplace, cable TV with VCR and a large breakfast for two. There is also a sitting room with a pool table, movies for the VCR, a large TV and piano upstairs in the ballroom that guests can use, and a room with internet access. Our room also had a really large and lovely Jacuzzi for two. What a delight after driving all day. For breakfast we had cheese omelets, pancakes and real maple syrup, bacon and sausages, hash brown potatoes, juice and coffee. Our innkeeper was very friendly and pleasant, and the room was an excellent value. A very nice overnight stop.

WYOMING
Alpenhof Lodge
PO Box 228
Teton Village
Wyoming 83025
800-732-3244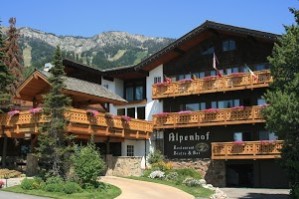 The Alpenhof Lodge is a small hotel located at the base of the Jackson Hole Mountain Resort and one mile from the entrance of the Grand Teton National Park. In the winter, this is a ski resort. In the summer, guests come to enjoy the Grand Teton and Yellowstone National Parks. Yellowstone is about 60 miles away. The town of Jackson Hole with many shops and restaurants is about ten miles away, and offers a nice day of shopping. The hotel is patterned after a European ski lodge and has lovely rooms with great views of the majestic Grand Teton mountains. There are 42 rooms and suites. Some have fireplaces and /or balconies, all with down comforters for cold winter evenings . Junior suites have Jacuzzi tubs, heated tile floors, and heated towel racks. We stayed in a room with a balcony with a view of the mountains. It also faces the parking lot which is a bit of a disadvantage, but that is quickly dismissed. It was very nice to sit after dinner on the balcony while sipping coffee and brandy and watching the stars. The Lodge has a 4 star Mobile restaurant, which was unfortunately closed for remodeling when we were there. There is much to do in the parks in the summer: hiking, fishing, animal watching (huge Bison right on the roads), and great skiing in the winter. We stayed five days and found the service friendly and accommodating, the room very lovely and relaxing and the area just magnificent with the mountains and parks. We went in the later part of September at the end of the season and had unusually fine weather, and almost no crowds........a very pleasant vacation indeed.

PENNSYLVANIA
The Artist's Inn and Gallery
117 E. Main St.
Terre Hill, PA 17581
800-999-4479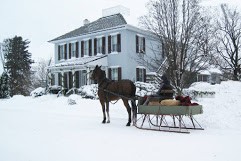 During the summer of 2007, we decided to treat ourselves to a weekend of antique shopping in Lancaster County, PA, dubbed the "Antique Capital of the USA". We were looking for a historic and quaint country inn near all the stores and found the Artist's Inn and Gallery. The Artist's Inn & Gallery, built in 1848 is a Federal-style home in a small farming town about 10 minutes from the Adamsville antique malls. It is a very lovely Victorian bed and breakfast in a quaint little town that has really just one street, where the only real noise is the "clip clops" of the Amish horse and buggies going down the main road or the bells in the church. It is a lovely home with an artist's gallery downstairs and There are three rooms n the main house and a two story cottage a block down the street with two bedrooms, a living room, dining room and full kitchen. All the rooms are furnished with lovely antiques and have hand painted flower stencils and murals. We stayed in the Garden Suite, with a king size bed, two person whirlpool, massaging shower, private porch and entrance and cable TV. The private porch was a really lovely place to relax and enjoy the garden and the "clip clops" down main street. We took a few bottle of wine and would rock and sip after dinner. The innkeepers, Bruce and Jan Garrabrandt, ensure their guests are pampered. Bruce is an artist and has many of his works on display in the inn's living room gallery. Jan is an avid "foodie" and made spectacular 4 course, candle light breakfast with home baked scones and breads, hot dishes like soufflés and crepes and desserts. The inn is a bed and breakfast, but there a re a number of nice restaurants close by. For those who do not like to antique, there are lot of other things to do: golfing, hiking, Amish attractions, farm markets, outlet stores, covered bridges, microbreweries and wineries. The inn also has various weekend events, e.g., wine and cheese tours, valentine chocolate weekends, etc. This was a lovely, relaxing inn and also an excellent value.

Bella Vista Bed and Breakfast
1216 E. Main St.
Akron, PA 17501
888-948-9726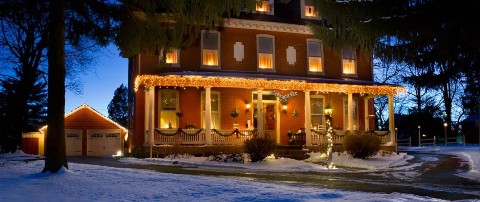 T
he Bella Vista B&B located in the heart of Lancaster County, just a few miles from Adamstown, PA, dubbed the "Antique Capital of America". The bed & breakfast is a beautiful country house featuring a post Victorian style. Most of the original features have remained the same or have been enhanced. There are six guestrooms decorated in a different décor. All guestrooms are air-conditioned, and have wireless internet access. We stayed on the top floor in the Colonial Room , which had with a queen size bed and twin sofa bed, and a stenciled hardwood floor. The bath has an old-fashioned deep claw- foot tub with a shower attachment, great for a long relaxing soak after antique hunting all day. This room also has a TV and electric fireplace. There are two sitting rooms; one with a fireplace and TV. There are lots of things to see and do in the area. The B &B is close to many tourist attractions, outlet malls, and antique shops . Hersey PA, Strasbourg Railway, a Pretzel Factory, Mount Hope Winery, Ephrata Cloisters, Landis Valley Farm Museum , and historical towns and cities are minutes away. In addition, Lancaster and Berkshire Counties are famous for flea markets and antique malls. The area is also known as the " Pennsylvania Dutch Country". After busy days spent sight -seeing or shopping, guests can relax on the lawn, or take advantage of the old fashion rocking chairs or porch swing. There is also a fifty-acre park is located across the street, which features a playground, pond and many trails. A full course country style breakfast is served every morning. Snacks and drinks are available throughout the day. Although the B&B does not serve dinner, there are several of restaurants close by. With advanced notice, you can have a unique adventure, and have them arrange for you to have dinner with a local AMISH family. This inn was very comfortable, the innkeepers were most hospitable, and it was quite a bargain.

Do you have favorite country inns? Email us with yours.
Updated March 24, 2018