Diane and Tom Camping
Indian Lake NY




Tom and Diane have been going camping for the last 33 years. We find it soothes our souls and restores our sanity. Every year we return to our favorite place in the Adirondack mountains in upstate New York. Since Tom retired, we go for three weeks every years at the end of the summer. The camp is on Lewey and Indian Lakes about one hour northwest of Lake George. It is an area in the central Adirondack Forest Preserve that has the most wilderness area, good size mountains and the most bears. We have also been camping in Acadia National Park in Maine, on the beach in Montauk, New York and Assateague Island in Maryland (wild ponies). We have had some very interesting experiences we would like to share with you. We've also added two photo albums so you can really get in the spirit. Take a look at our idea of heaven on earth--visit our Camping Album and our Waterfalls Album. Recently, our friends who live year round at Indian Lake took pictures of our campsite in October and in January--so now you can also see what it looks like in the fall

with all the leaves in full color and in the dead of winter with snow on the mountains and the lake frozen. In our Waterfalls Album, we included pictures of the falls at Lewey Lake as they looked the day after Hurricane Katrina hit the Adirondacks.

Camping with Kitties
In past years, we adopted a number of kittens and took them camping with us in the mountains. This was really an adventure. Since these "girls" are indoor cats, we wanted them to be able to enjoy and experience the outdoors safely, so we hunted for quite some time for an appropriate enclosure where they could see out, could not run away, be safe from wild animals, and give them enough room to run and jump. In the end, we got them their own tent. It had a regular closed tent in the back with a fully enclosed screen room in the front. With this, they could spend the day watching the ducks and chipmunks and people on the lake and then be secured at night or if it rained. Now we have a sleeping tent, a screen tent for eating, a kitchen canopy tent for our cooking area; and the cat's tent. A neighbor in the next campsite came over and wanted to know if we were going to have a big party with all those tents!!! Lots of people bring dogs, but we have been the first to bring cats to the campsite. They were the hit of the campground--people stopped their cars on the road to look at them; people came into the campsite to see them and talk to us about them; people brought their children to pet them; people took pictures, etc. As a matter of fact, it caused such a stir that word even spread to the town of Indian Lake We heard town's people talking about it in the Laundromat and the local pub, and Tom was given the local nickname of "Tom Cat"!!! The cats adapted very well. They were mesmerized with the ducks, birds and chipmunks in the site. They took to riding in a big carrier on the boat and sniffed the fish we caught and showed them. They rode all over with us when we went antiquing. Take a look at our "little girlies" (Marmalade--the orange one; Creamsicle--the buff one; Truffle --the black one; Marshmallow --the white one; and Pepper the striped one) on our Camping Kitties page.

Camping Trials and Tribulations
During the years, we have encountered many (shall we say) challenges during our camping vacations. They have ranged from relatively minor things like continually sliding off the air mattress to life threatening experiences and Hurricanes Katrina and Irene. Do you want to know more? Visit Trials and Tribulations in the middle of the Adirondacks. Read about our latest adventures from last summer.


Gourmet Cooking and Romance At the Campsite
If you have already visited our cooking pages, you're probably wondering what do these people eat in the wilderness. Well, how many people do you know who take Champagne vinegar, foie gras, lobster, duck breast, crabmeat, sushi quality tuna, various honeys with nuts, fresh herbs, figs, and Chanterelle mushrooms camping? We take two HUGE 160 quart coolers chock full of good stuff. One year a young couple came into our site to ask if we had an extra stick of butter. We always laugh about us going to someone else to ask if they might have a few extra shitake mushrooms.

We do eat a lot of great meals--dry aged prime steaks, ribs, roast beef, Cornish hens, grilled pizza, rack of lamb, duck breast, duck confit, foie gras, pancakes, frittatas of all sorts, baked stratas, breakfast pies, stuffed French Toast, bacon, mascarpone cream cheese, chilled vegetable and fruit soups, grilled fruits of all sorts, baked fruit pies and crisps, grilled fruit over grilled pound cake, slow roasted ribs, grilled whole fish, charcouterie and olive plates, European cheeses, grilled bruschettas, potatoes gratins and galettes, grilled stuffed mushrooms of all sorts, grilled stuffed vegetable boats, grilled European sausages of all sorts, vegetable tarts and bread puddings, etc. We also bring a couple of bottles of wine and/or champagne for each dinner. In the past few years, we have also brought a few bottles of dessert wine, Reserva Spanish Brandy and/or fine aged Armagnac to sip by the fire after dinner. We have also started making Sangria and Kir Royales, Yumm! To avoid having the wine killed from the heat, we took a couple small coolers, and let a little ice melt into cool water under the picnic table. It worked like a charm and kept the wine at exactly the right temperature. Last year one night after a weather front came through, the air was crisp, the sky clear with millions of stars, and the evening still. We turned off all the lanterns and had only the fire for light. We sipped more soft and velvety French Burgundy while listening to Placido Domingo or Tony Bennett romantic ballads on the CD player and watched the stars without saying a word. The evening ended with dancing by the fire under the whole Milky Way---truly romance incarnate!!! Whenever we can get fresh seafood, we will also have a seafood course with dinners, e.g., cold lobster with lemon dill mayo, grilled lobster rolls, spicy crab cakes, fresh grilled salmon cakes, grilled king crab legs with melted butter, etc. I also got great use of my new manual blender and food processer! These work much better than the battery operated or cordless ones and now Diane has muscles!! As a result we had lots of smoothies, more fruit and vegetable soups and some lovely vinaigrettes

It is really easy to roast peppers over the Coleman stove and grill other vegetables to make grilled pizza, e.g, roasted red pepper and goat cheese pizza, four cheese and wild mushroom pizza, cheesy corn and tomato pizza.

We also end every meal now with lattés, using my battery operated milk frother. A couple of years ago, we replaced the charcoal grill with a medium size table top gas grill. It works very well to slow cook something like ribs and then turn up the heat to caramelize them with sauce for the last few minutes. It also is better for baking since it holds an even temperature. We have been doing a lot of baking, including pound cakes, fruit crisps and rustic tarts on the gas grill. Last year, a rather chubby chipmunk jumped up on the table and grabbed a plum out of a cooling tart and ran off! Want something else great, grill a piece of foie gras with some grilled honeyed figs--or grill a piece of pound cake and top it off with a warm fruit compote and some sweetened & vanilla flavored mascarpone cheese--to die for!!!! If you would like to hear more about some typical camping meals, visit Gourmet Camping Menus

. We had added some new menus from last summer. Many of these recipes are now on our Recipe pages


Camping Inventory
OK, OK--so we're into inventories and lists. Well, off in the wilds of the Adirondack mountains, there are no shopping malls, and big stores (in a 75 mile radius), and it is 60 miles to a full size grocery store, so we need to make sure that we take everything with us. Well, do you really want to know what a couple of "foodies" and "pack-rats" consider just normal and ordinary minimal camping requirements for three weeks. Well, check out What we take to make it a memorable vacation. We have updated it to reflect our more sophisticated cooking adventures.


Fishing
One of the activities we both enjoy is fishing. Of course, Diane won't put the worm on the hook, or take the fish off the hook, but it's still fun for all. We have fished so much that we have both worn out our poles and had to get new ones. On average, we catch about 60-80 fish each year; however, one year, we caught over 120 fish a piece. We now have an electric ignition motor for our boat---no more breaking Tom's arm pulling the ignition rope!! A couple of years ago we also got an electric trawling motor to use in the shallower areas and as a back up for the gas motor. This has definitely come in handy a couple of times when we could not get the gas motor started--trying to row back to the campsite is a significant problem. In the mountains, we rarely get anything big enough to eat, and always throw them back in. As a matter of fact, there have been some smart-alec questions when looking at pictures of our catches, about whether they were fish or earrings. In Montauk, however, we chartered an ocean fishing boat and Diane caught a 40 pound striped bass. Unfortunately, we had to throw it back in because it was one inch too short. So--you don't believe it!! Just another fish story!! Ha--the one that got away!! Well take a look for yourself!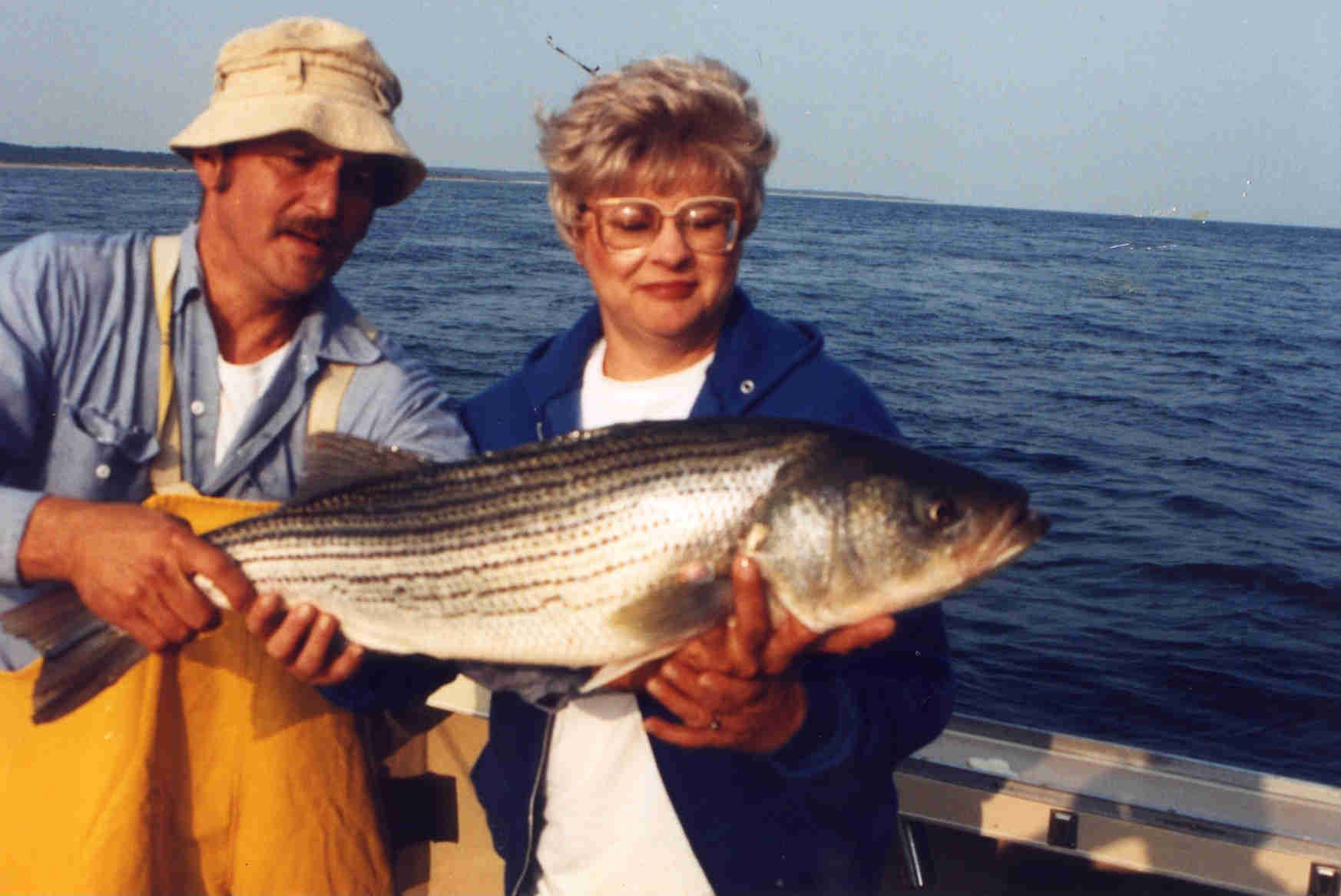 (Click on the picture to see full size)
For more information on the Adirondacks and camping, visit Adirondacks and Camping Hot Links

Updated July 16, 2016