New Jersey Courier News July, 1995
Dinner Party Review

---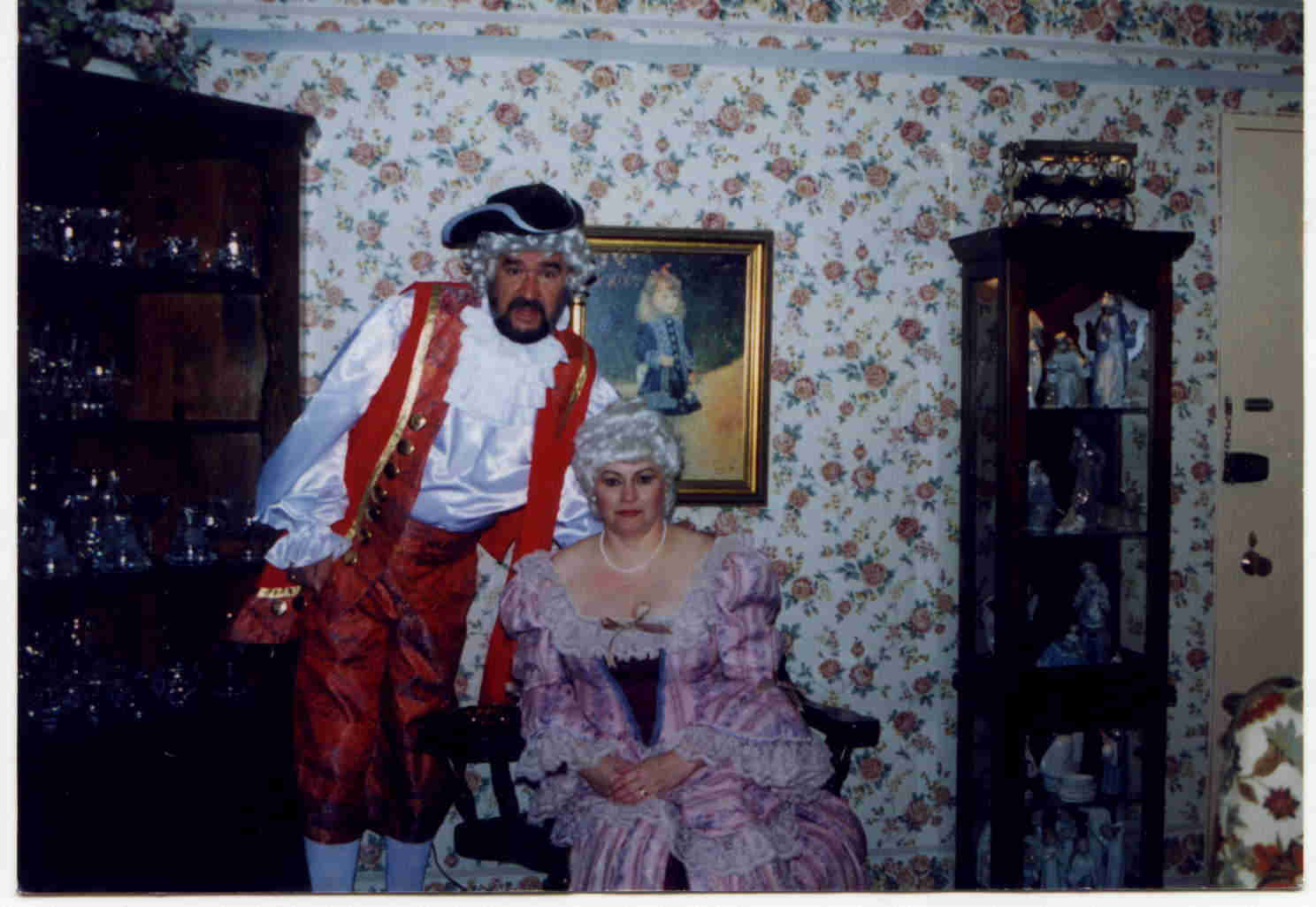 Diane and Tom at their Colonial Theme Dinner Party
---

Nowadays, more often than not, dinner for many of us comes down to a delivered pizza, a Big Mac on the run, or if we really want that "home cooked" feeling, a spread from Boston Chicken.
Let's face it, we're all busy. Who has time to cook? Well, Diane and Tom Faglon do. For the past ten years, this Franklin couple, with a shared passion for cooking, have been impressing people with elaborate and innovative dinner parties. Though they have no formal culinary degrees, Diane, a management system consultant, and Tom, a retired senior systems specialist for Telcordia Technologies, moonlight as gourmet cooks using recipes culled from their numerous cookbooks and magazines. During leisurely Saturday evening affairs, held five or six times a year in their apartment, they share the fruits of their labor with friends.
While the parties began as simple gatherings around the holidays, Diane confesses they have blossomed into increasingly fancy events.
Now, when the Faglons play host, they typically serve six courses for an average of 12 people, though large parties planned for the fall will include 17 guests. One recent affair had a colonial theme, complete with original recipes from George Washington and Thomas Jefferson, fresh flowers from the time period, and colonial attire.
Partially responsible for the heightened elegance of the dinners is a trip to England the couple took six years ago where they were impressed by the European attitude toward food and dining.
"Europe made us dangerous", Diane quips. "We developed many new tastes, but lacked the knowledge to incorporate them properly." Since then the pair have done some research on food and wines, learning how to pair them correctly.
Menus usually take four or five hours to put together with Diane narrowing the recipe possibilities and Tom making the final selections.
They are decided sometimes months ahead of time since the couple uses the most select ingredients. For instance, meat is ordered from a Pennsylvania Dutch farmer in advance, berries are picked all summer and frozen for future use, and vegetables are bought fresh from New Jersey orchards. However, Diane stressed these meals are not for the overly health conscious. "We don't do anything healthy, and we are not into low fat," she says. "We believe if you are going to do a dinner party, do it right."
The day before an affair, the preparation really begins. Diane takes off from work, and while her house is being cleaned, sets the table with Battenburg lace linen, china, silver and crystal, taking care that each piece reflects the theme of the meal and complements one another.
This alone requires four or five hours, considering the multiple courses and glasses for the different wines served with each. Individual scrolled menus are placed at each setting and corsages and boutonnieres are provided for guests. Fresh flower arrangements provide the finishing touch.
Any cooking done the day before depends on the complexity of the menu, Diane explains. Tarts, cheesecakes and sorbets are always prepared in advance and on Saturday morning husband and wife are both up at seven AM to prepare the rest of the menu. Everything is a real team effort, but they do specialize a bit with Tom handling all the soufflés and breads and Diane preparing most other desserts.
If all goes well, they are cleaning the kitchen by 5PM and are dressed and ready themselves two hours later, just in time to go over detailed written instructions with their two hired servers. By 8PM, the couple is calmly awaiting their company's arrival. Or so that's the plan.
Diane adds that things don't always go without a hitch. "If I've had trouble with anything, I'm not so calm when my guests arrive", she says.
However, you'd never know it to talk to those who have had the pleasure of dining chez Faglon. "The dinners are always very elegant, yet you feel so at ease with Tom and Diane," notes Peggy Sutherland, a former colleague of Diane's. "They have a way of making everyone feel at home. They are having fun and enjoying so you do too." Tina Ayers, another regular at the dinners agrees. "It's a very relaxed atmosphere that allows people to look forward to what they're being served," she says. "The best part about the dinners is the nice combination of really nice people and great food," adds Debbie Daye. "It's a very cozy, old worldish atmosphere-Diane has such beautiful things."
Each of these guests marveled that each affair seems to outshine the previous one, with unusual new recipes and beautifully extravagant table settings. At the end of the evening, diners even have the opportunity to rate the Faglon's performance as they are asked to fill out a "customer satisfaction survey." But by all accounts, it seems this culinary couple have never received a poor score. "A five star restaurant would be proud of them," Daye says.
Daye says that no expense is spared on these gatherings and she is right. A dinner for 12 runs the Faglons $600 to $700. What is important to understand that after all the hard work and expense, cooking to this pair is not only a creative outlet and a stress reliever, it's a priority.
"Everyone has different priorities. we enjoy cooking, good food, good wine and good conversation, so it's worth it to us," Diane says. She adds that seeing all the different aspects of a dinner project come together from start to finish is a rewarding experience that one cannot always get from work. "I've cooked ever since I was a kid--my father taught me," Tom says. "Now I work with computers all the time and they are not very friendly. When you get to cook, smell the food and share it with friends, it's great."
By Colleen M. Woelfel
Courier News Writer

Updated July 16, 2016