Dishes With Bite


Munchmobile Spices Things Up With Cajun/Creole Outing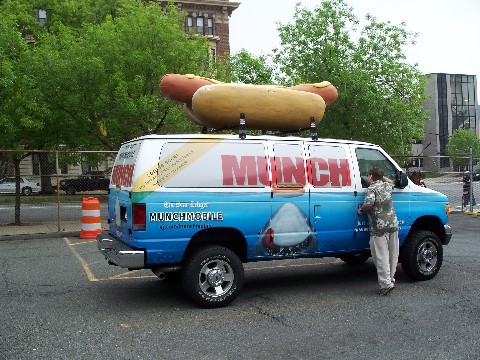 ---

Munchmobile duty is a fun, fulfilling, perhaps life-changing experience, but even the Munchers, privileged as they may feel, must obey the rules - rules of Munch conduct set by the driver and photographer, and rules set by the restaurants visited over the course of the summer.
"The cover (charge) is $5," Ronnie Frankel announced as a Munch party of five entered Crossroads in Garwood, the final stop on our Cajun/Creole road trip. "We're here for dinner," announced Muncher T. G. Glazer of Cranford. "That's nice," Frankel, mother of Crossroads owner Lee Frankel, sweetly replied. "It's still $5."
Call it tough love, Munch style. Crossroads was one of five restaurants visited on our jambalaya-jammed journey, which included stops in Hoboken, Freehold, Belmar, Garwood and Montclair. Cajun/Creole may be far down the list when it comes to ethnic/regional food choices in New Jersey, but good étouffée and chicken creole can be found - if you know where to look. Or not look.
Two restaurants recommended by readers - Southern Comfort in Hasbrouck Heights and Butler's Louisiana Kitchen in Long Valley, have closed, the latter temporarily "due to economic difficulties," according to a taped message. But with people like Tracie Orsi around, there's enough energy (or good karma) to go around for everyone. When she opened Ragin' Cajun in Belmar, Orsi's friends would congregate in her small kitchen, making the small matter of turning out dinners impossible. "It was, "Dude, gotta cook,'" Orsi said, laughing. We sampled swamp salad, wrestled with alligator bites (don't taste like chicken) and managed to leave room for pecan pie and bananas foster. Our Munchers, a lively crew, answered the call when the Big Dog's driver announced a second Cajun/Creole run several days later. "The food was great, as were the laughs!" said Muncher Dana Vigilante. Laissez les bons Munch temps rouler!
OddFellows Rest, Hoboken
Who were the OddFellows, and how did they end up as the name of a restaurant in Hoboken? In 1847, a benevolent society, "The Independent Order of OddFellows," founded a cemetery, OddFellows Rest, at the bottom of Canal Street in New Orleans. It's still there; across the street is a headstone marking the final resting place of jazz musician Emile "Stalebread" Lacoume. You can't make this stuff up. The Hoboken restaurant, at first glance, resembles a sports bar. But there's a spacious dining room, decorated with posters of New Orleans, and a charming, if unlikely, outdoor courtyard, sandwiched between two buildings. We loved the pain perdu (lost bread), a New Orleans take on French toast, topped with pecan butter. And the peppery swamp salad. The verdict on the jambalaya: too much rice, not enough chicken and andouille. The gumbo ya ya, with shrimp and crab, didn't live up to its colorful name, but the crawfish étouffée and chopped BBQ pork po' boy are recommended. And Muncher Evelyn Goldin admired the Cajun popcorn - lightly fried crawfish. The pecan pie seemed ordinary, but there were raves for the bread pudding. "Spectacular, not like any other I've ever had," Vigilante noted.
Bayou Cafe, Freehold
Robert Lumley, co-owner of the Bayou Cafe, was once chef at the Bayou Cafe in Manasquan, its predecessor. The Freehold restaurant was the most casually elegant of the restaurants on our trip, with its mirrored walls and atmospheric New Orleans photographs. The appetizers were not particularly memorable. The barbecued shrimp featured a right-out-of-the-jar-tasting BBQ sauce, and the Creole gumbo was "kind of bland," according to Vigilante, echoing the consensus. The alligator bites, nicely breaded, proved the best of the bunch. The muffuletta is more memorable than the oyster po' boy, and Glazer liked the jambalaya's "nice bite, nice kick." Nevertheless, OddFellows Rest's jambalaya is better, although its étouffée takes a back seat to the Bayou Cafe's version. We would find better chicken Creole at our next stop. None of the desserts - pecan pie, bread pudding or rum cake - distinguished themselves.
The best item here isn't on the menu: Lumley's "bayou jam," a thick, supremely spicy sauce you may want to slather on anything edible. You can buy bottles of it here.
Ragin' Cajun, Belmar
Tracie Orsi is convinced the rambling old house that houses Ragin' Cajun is haunted, although judging by the overall gaiety here, the ghosts left a long time ago - or have joined in the fun. Bands like the Booglerizers, and Stringbean and the Stalkers play regularly. The tables are straight out of a yard sale, and Orsi, at least the night we stopped, was doing everything from wiping tables to taking orders.
We started with baskets of warm, puffy rolls served with cubes of roasted garlic. Hello! Best alligator bites of the day - crispy, crunchy and not even vaguely reminiscent of chicken. The Cajun steamed mussels swim in a golden garlicky broth. The Nola BBQ shrimp, in a rich, near-rousing sauce, are first-rate. The jambalaya comes with a diner's advisory. "This is our spiciest dish and cannot be spiced down," according to the menu. "On a scale of 1 to 10, this dish is an 8." Sounds about right. Best dish here: the simple, and simply sensational, chicken creole, with chicken, stewed tomatoes and the "holy trinity" of Cajun cuisine - celery, onions and peppers. The étouffée, eh. That's Cajun for okay. But Orsi is a trip and her kitchen - "Dude, gotta cook!" - turns out some first-rate Cajun/Creole.
Saveur Creole, Montclair
This small, charming cafe opened two years ago; the owner is Haitian-born Ronald Mompoint. "I am the owner, but I have a boss in my wife," he said, laughing. The restaurant, with its melange of Creole and Caribbean spices and flavors, smells wonderful. Shelves are stocked with pecan popper jelly, spicy apple garlic jam, balsamic chili vinaigrette and other products. Mompoint calls it "fusion Creole," drawing on French, Spanish, Portuguese, Dutch and other influences. Dishes are creatively presented, the meat cradled in banana-leaf-decorated white bowls. The bayou salad, with collards, spinach, mixed greens, tomatoes, onions and goat cheese, is a knockout. The tilapia roule, simmered in a tomato-based sauce, also is recommended. The chicken creole paled in comparison to Ragin' Cajun's version, but the best dish of the entire trip - the wonderfully tender Saveur Creole pork, in an irresistible stew - could be found here. "Everything here is very distinctive," Goldin summed up.
The Crossroads, Garwood
This noted live-music club advertises "the finest in Cajun and American cuisine, served fresh and made to order." Uh, no. The jambalaya, shrimp and crawfish étouffée, Louisiana crab cakes and crawfish bourbon bisque are all subpar. The "famous" voodoo Cajun shrimp are bathed in "special Cajun sauce," which tasted like every buffalo wing sauce on earth. The alligator tail is the best of an undistinguished bunch. "Real alligator," the menu trumpeted. Sure hope so. Ronnie Frankel is a character and the music at the club is practically nonstop, but the food at her son's restaurant needs work.
Stops on the tour
· Bayou Cafe, 32 W. Main St., Freehold; (732) 845-1800. Hours: 11:30 a.m. to 10 p.m. Tuesday through Friday; 4-10 p.m. Saturday; 3-9 p.m. Sunday. Website: bayoucafe.net.
· The Crossroads, 78 North Ave., Garwood; (908) 232-5666. Kitchen hours: 5-11:30 p.m. Tuesday through Saturday; bar food until 12:30 a.m.; Sunday hours depend on events. Website: crossroadsatgarwood.com.
· OddFellows Rest, 80 River St., Hoboken; (201) 656-9009. Kitchen hours: 11 a.m. to 10:30 p.m. Sunday through Wednesday; 11:30 a.m. to 11 p.m. Thursday; 11 a.m. to 11 p.m. Friday and Saturday. Website: oddfellowsrest.com.
· Ragin' Cajun, 1102 River Road (Route 35), Belmar; (732) 280-6828. Hours from Memorial Day weekend "until it gets cold" - 5-10 p.m. seven days a week.
· Saveur Creole, 131 Grove St., Montclair; (973) 744-3506. Hours: 11 a.m. to 8 p.m. Tuesday through Friday; 11 a.m. to 9 p.m. Saturday; 11 a.m. to 3 p.m. Sunday. Closed Monday. Website: saveurcreole.com.
Top Dog Rating
Loved the New Orleans breakfast items at OddFellows Rest, the Creole dishes and charming setting at Saveur Creole in Montclair and Robert Lumley's "bayou jam" at Bayou Cafe in Freehold. But our meal, and evening, at Ragin' Cajun were unforgettable. The Belmar restaurant wins this season's first Top Dog award.


PETER GENOVESE STAR-LEDGER STAFF
Published: May 22, 2009
Updated July 16, 2016