New Jersey Home Tribune and Courier News
May 20, 2012
"Somerset Resident's Winning Recipe"
Goat Cheese Lettuce Cups

---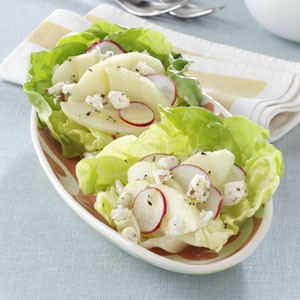 ---
Somerset's Thomas Faglon has become a bit of a national food star. His recipe for goat cheese lettuce cups was included in the May issue of Taste of Home magazine and on its website, Tasteofhome.com. The recipe was chosen out of thousands for inclusion. "Thomas' recipe is great for spring with the spicy bite of the radishes pairing nicely with the sweet crunch of apples and delicate lettuce in this tasty appetizer," said a representative from Taste of Home.
The recipe takes 20 minutes to prepare and serves four.

GOAT CHEESE LETTUCE CUPS
12 radishes, thinly sliced
1 large apple, peeled and thinly sliced
2 tablespoons olive oil
2 tablespoons lemon juice
1 teaspoon grated lemon peel
¼ teaspoon salt
1/8 teaspoon pepper
4 Bibb or Boston lettuce leaves
1 4-ounce package herbed fresh goat cheese, crumbled
In a small bowl, combine radishes and apple. In another bowl, whisk oil, lemon juice, lemon peel, salt and pepper. Add to radish mixture; toss to coat. Just before serving, place radish mixture in lettuce leaves; top with cheese
Written by: Chris Jordan

Updated July 16, 2016